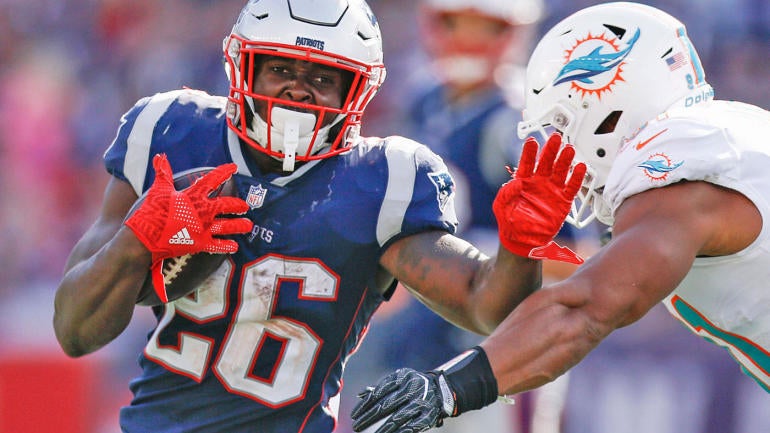 The way Sony Michel is playing football, he probably doesn't have to worry about doing anything else for a while.
Drafted 31st overall by the New England Patriots this year, the former Georgia standout has wasted no time making himself known around the NFL. Among Offensive Rookie of the Year candidates thanks to his explosive production behind Tom Brady, Michel has missed some time with injuries but otherwise cruised his way to a 1,000-yard rushing pace, averaging 4.5 yards per carry as New England's clear-cut No. 1 en route to a first-year trip to the playoffs.
Yet Michel, who's starred for one of the NFL's top teams of 2018 at age 23, isn't just focused on football.
"Whatever I do, I aim to inspire," he said. "It starts with football, but that's not where it ends."
For a rookie thrust immediately into the NFL spotlight (and for good reason), Michel could easily be all about himself -- and all about the here and now, which has him ranked among the league's top 20 rushers in terms of total yardage despite playing just nine games so far. But the former Bulldogs star also has his sights set on things beyond his rookie season and beyond the gridiron.
"I think of the future all the time," he said. "I'm always thinking about, 'How can I get myself to be better at whatever it is?' I never want to stay in the same place, so I'm planning for the future. And, for me, I see that plan being to create, to design and to inspire."
In what ways, exactly?
For Michel, his off-field passions start with music.
"Being so young, music has shown me that I can do more than just play football," he said. "This passion of music ... started in middle school, really, being at the lunch table, one guy making the beat. We wasn't that good, but we were just having fun. It would kind of just give me this rush, then adrenaline would start flowing. It's almost like football, when you're walking through the tunnel and you hear that crowd, you're like, 'OK, it's game time.'"
His plan is to someday start his own record label and encourage "artists to be themselves." That's in addition to dreams of inspiring people through a fashion line. Michel, who is "staying on top of trends" even amid a busy NFL work schedule, said he could either "create my own piece and use that to inspire somebody" or go a different route.
The point is this: He may do one thing really, really well: run the football. But he's not going to stop at that.
"You don't have to do just one thing," he said.
https://ift.tt/2RCsCix