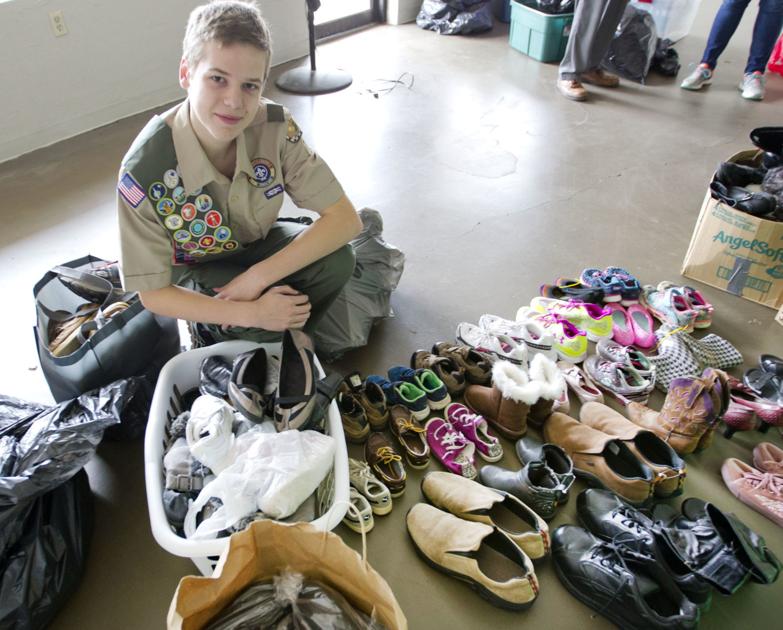 RUSSELLVILLE — Ian Stevens struggled to find just the right Eagle Scout project until the plight of a family friend gave him an idea.
A friend of his sister, Cali, has cystic fibrosis and is experiencing liver failure, said the teen's mother, Fauna Stevens.
"She is currently on the liver transplant list," Stevens said.
She said one of the child's aunts approached Ian with an opportunity to raise money for the Children's Organ Transplant Association, which can help not only Kaitlyn McGuire's family but other families like her's that are facing the high cost of organ transplants, Stevens said.
Ian Stevens said he's trying to collect at least 2,500 pounds of shoes for the drive.
"You get 40 cents per pound for the Children's Organ Transplant Association (COTA)," he said. "We're accepting new and gently used shoes."
The shoe drive is being held through Funds2orgs, which helps organize the drive. The organization will also pick up the shoes and cut a check to the charity once the fundraiser has concluded.
"COTA helps to offset the high cost of not only the transplant procedure, but also before and after patient care," Fauna Stevens said.
They have already received hundreds of pairs of shoes that are being stored in an old office building in Muscle Shoals.
"From what I've seen so far, we're off to a good start," Ian Stevens said. "I'm surprised we've brought in so much so quickly."
The fundraiser has only been going on for about a week. His mother said the shoe drive will continue until Jan. 4.
Ian Stevens said there are collection boxes set up throughout the Shoals.
Shoes can be dropped off at:
• Austin Shoes in Florence and Muscle Shoals.
• Valley Chiropractic in Muscle Shoals
• EyeCare Professionals in Russellville
• First United Methodist Church, Russellville
Fauna Stevens said there are also donation boxes at three Russellville schools, and she is trying to get them into Muscle Shoals city schools.
Fauna Stevens said the Lowe's store in Muscle Shoals and EyeCare Professionals provided paint and supplies to make and paint the collection boxes. Youth members of their church, the Church of Jesus Christ of Latter Day Saints in Russellville, helped paint the boxes.
Fauna Stevens said Funds2orgs sends the shoes to "micro entrepreneurs" in less fortunate countries.
"Not only is this helping COTA, but also giving motivated persons in other countries the opportunity to bless their own lives," she said. "The amount of money we are given for COTA is based on the total weight of the shoes donated."
Fauna Stevens stressed they need sneakers, flip flops, sandals, boots and heels.
"Used steel-toed shoes would be great," she said.
https://ift.tt/2Qp7Eq8