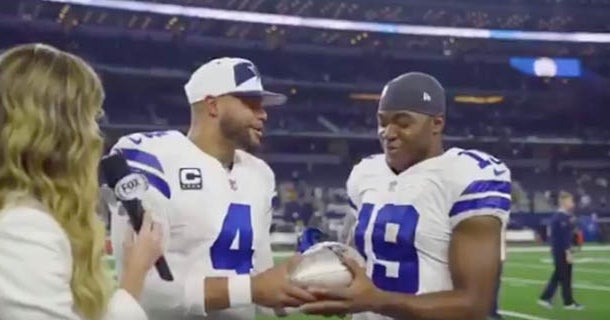 FRISCO -- It's true that the New Orleans Saints, as Dallas Cowboys QB Dak Prescott phrases it, "Put on their pants the same way we do.''
It's true. And during the three-game winning streak that has put the Cowboys atop the NFC East leading into Thursday night against the 10-1 Saints, Dallas has put on its big-boy pants.
But let's be frank about the Saints at a time when they have won not three, but 10 games in a row: They may don their pants and their pads and their helmets in the same manner as everybody else ... but they do it bigger and better and faster than most everybody else, too.
That's why Dallas receiver Amari Cooper is willing to concede that this is a "measuring-stick'' game.
"Why not look at it that way?" Cooper says. "They're one of the best teams in the league. So if we can beat them, then that says a lot about us."
The Saints are especially dominant on offense. While during 6-5 Dallas' three-game win streak the Cowboys have upped their scoring average to 27 points per, the Saints on the season average 37 points per.
There might be a slight on-the-record disagreement here inside The Star as to what that all means. To offensive coordinator Scott Linehan, no special heed should be given to the above numbers.
"When you're playing these kind of games,'' he says, "you can't be scoreboard-watching.''
But that's not reality. Today's NFL rules allow the Space-Age teams to score. Heck, they encourage it. Other clubs that are more Stone-Age (like the Cowboys) would be wise to have additional clock awareness, additional tempo awareness and additional calculated risks to go along with traditional concepts like clock control and ball control.
"We've just got to go score," Prescott says, and that's exactly right, because even if Dallas "explodes'' (relatively) for another 27-point outburst, it might not be enough. "We've just got to simply play our game. We trust in our defense, our scheme and everything that we have. So if we go in there and handle our business we feel good about it."
Obviously, there is one guy who can break a philosophical tie around here. Jerry Jones, what say you?
Linehan isn't talking this way. But one guy gets it: 'Each play, every time the #Saints have the ball, it's a Super Bowl play,'. says Jerry. Meaning? #Cowboys O needs 'urgent' response. pic.twitter.com/3eWzAIm2mv

— mike fisher ? (@fishsports) November 27, 2018
That "business'' needs to feature some big-play ability from Dak, Amari and Ezekiel Elliott, who, while well short of being "Triplets''-worthy just yet, have been stellar in conquering three straight contenders ... and now need to do it again.
"I don't think you have to play perfect," Elliott says. "It's almost impossible to play a perfect football game, so I don't think it's going to take perfection. I think it's going to take us to come out there and play physical, play our style of football, just go out there and compete."
Ah, if only this was that simple. Under coach Jason Garrett, there is virtually never a time when his team doesn't "compete.'' Dallas defense has some elite components, but "compete'' might be its greatest strength. And a Cowboys core is in the offensive line, where it's all about being "physical.'' But this is going to take something more than "conventional.'' If the Cowboys can find a way to put on their pants faster -- maybe two legs at a time? -- that might help.
https://ift.tt/2TPAWgf